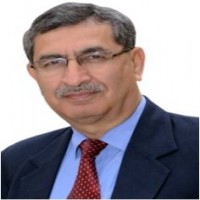 Dr. Ravinder Malik
Ex-Joint Director (Research)
National Dairy Research Institute, Karnal and presently ICAR-Professor Emeritus at NDRI, Karnal
He had his Masters' and Ph.Ddegrees in Dairy Microbiology from National Dairy Research Institute, Karnal and Post Doc from Federal Dairy Research Centre Kiel, Germanyunder DAAD Fellowship.
Started his career as a Scientist in 1978 at Dairy Microbiology Division, NDRI, Karnal. In 1998he was selected as Professor and Chaired the Division of Dairy Microbiology as Head from 2012 to 2014 and Joint Director (Research) at National Dairy Research Institute, Karnal from August, 2014 to September 2016.
He has worked in the areas of Microbial Enzymes, Metabolites of Lactic Acid Bacteria,Bacteriocins and their Application in Food Safety and Biopreservation, Probiotics and Functional Dairy Foods. He has published over 127 research papers/reviews in Journals of national and international repute and 2 books, 15 book chapters & 4 Manuals. He has presented his work in more than 72 national and international conferences/symposia, and has three patents to his credit
He was involved in 31 different institutional and externally funded research projects such as DBT, DST, NDDB, World Bank, MoFPI, Indo-NewZealand Collaborative Research Project on Probiotics, NAIP, NARP and National Fund as 'PI' and 'Co-PI'.
He has guided 16 M. Sc and 15 Ph.D. scholars. He is recipient of several Awards/Honours and Overseas Fellowshipssuch as Dr N NDastur Award (2005-2009) in recognition of his outstanding research contributions in the field of Dairy Industry; DAAD Fellowship for Post-Doc at Germany (1984-85); FAO/UNDP Fellowship (1990); Indo-Australian Collaborative Research Programme Fellowship by Department of Science & DST, India/DIST, Govt of Australia (1997); Honorary DAAD Advisor for 'Outstanding Commitment and Leadership in Promoting Indo-German Relations in Education' (2006-09); DAAD Re-invitation Fellowship (1999 and 2010);Visiting Professor Fellowship Award of Erasmus Mundus Scholar Programme of European Union (2013); Best Division Award (2013-14) as HoD; Indo-NZ Collaborative Research Project (DST-MoBIE) (2014-16); besides several Best Paper Awards and recognitions in teaching.
He is an elected Fellow of National Academy of Dairy Science (FNADSc), Fellow, Societyfor Applied Biotechnology (FSAB), Fellow, Indian Society of Veterinary Pharmacology and Toxicology (FISVPT) and recently conferred Fellowship of Indian Dairy Association.
He is a Life Member of Association of Microbiologists of India (AMI), Association of Food Science Technologists (AFST), Society of Biological Chemists, India (SBC), Indian Dairy Association (IDA),Probiotic Association of India (PAI), Society of Dairy Technologists of India (SDTI) and Indian Science Congress Association (ISCA).